Gourmet Coffee Shop
FRESH ROASTED COFFEE TASTES BETTER!
If the coffee you buy from Bello Montana Roasters is not the absolute best coffee you have ever tasted, we will refund your money. No questions asked.
Wednesday, November 30, 2005 -----



Coffee Bean Processing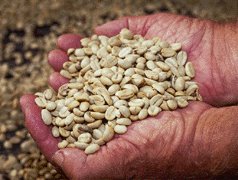 Coffee beans or seeds, as most know, come from the berry of coffee trees. There are typically two beans per berry but this is not always the case-every now and then three beans can be found in one berry and sometimes by design in certain coffee trees there is only one bean this is called a pea-berry. Getting to this bean can at times be a strenuous process. The outer skin of the berry is generally tough with a mushy inner pulp that surrounds the bean itself. Sometimes this pulp is more valuable than the bean due to its high sugar content that can be used in making coffee liquor or tea.

I had never thought about this before but did you know that in addition to having different sizes, shapes, colors, and tastes; different coffee trees produce different amounts of caffeine in their beans. The coffee berry is either picked right off the tree or up off the ground depending on the value of the particular bean on the world market. Generally they are hand picked however; some machines are used in the process. The berries are then sorted usually by hand according to color, size, and looks. Theoretically if the berry is ripe then the bean is easily extracted by simply squeezing. There are simple machines that can do this, one in particular is called a spinning drum it squeezes the berry until the bean pops out after which the beans are washed and dried. Afterward it is put through another machine that removes the thin parchment and mucilage around the bean by means of scraping the bean. Then the coffee beans are washed and dried again. After going through this process they are packaged and sent all over the world for home and commercial roasting and brewing. It takes about five pounds of coffee berries to produce one pound of coffee beans; on average a single tree will produce one to two pounds of coffee beans. Seems like a lot of work to get that sweet smelling cup of coffee every morning but I sure am thankful for it!

For free email and a discount on fresh roasted coffee visit JetBean.com

:: Posted by: JetBean at 2:34 PM
:: 0 Comments -- Post a comment
:: Email this article to a friend:



Tuesday, November 29, 2005 -----



Coffee Trees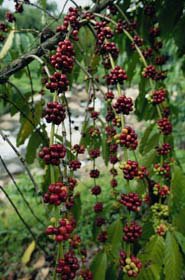 There are 25 different species of Coffee trees in the genus coffea. Coffea Arabica and coffea Robusta are the species most commonly cultivated. Many of the species are not cultivated commercially and some are grown as indoor plants purely for esthetic reasons. Some varieties of the coffee plant grow up to thirty feet tall. But in cultivation the trees are seldom allowed to grow over fifteen feet for ease of picking the coffee berry. Coffea Robusta is a shrub type plant. It grows similar to a bush with many trunks. Where as the Arabica is a tree type plant with a single trunk and paired branches growing outward with the lower branches tending to droop towards the ground.

Typically coffee trees have a bipolar leaf structure where two leaves grow opposite each other from the stem. Younger plant leaves tend to have an even edge look to them where the older plant leaves have a rippled look. The shapes of the leaves are usually oblong or oval. The typical lengths of the leaves are four to six inches with a width of one to three inches. The color tends to be a deep green with a waxy feeling surface.

The coffee plants flower is white and is formed in dense clusters where the leaves meet the trunk. The flower blooms shortly after a rain and is accompanied by a strong pleasing smell. Unfortunately the flowers only last a few days. After a coffee plant is pollinated a small green berry appears called a drupe. This coffee berry grows to about a half an inch to and inch and a quarter. These berries, like the flowers grow in clusters. When ripe, the coffee berry turns red and at full maturity it becomes bright red. Afterward the berry turns reddish-brown to brown and falls off the tree. Most pick the berry when it is red but some coffee growers allow the berry to fall off the tree before gathering.

For free email and a discount on fresh roasted coffee visit JetBean.com

:: Posted by: JetBean at 3:40 PM
:: 0 Comments -- Post a comment
:: Email this article to a friend:



Monday, November 28, 2005 -----



The Origins of Coffee

There are many legends of the origins of coffee as a beverage and most are very fanciful. Some believe that in AD 850 a goat herder in Ethiopia observed strange activity in his goats after they had eaten some strange berries. He tried the berries himself and quickly felt a novel sense of elation. He filled his pockets with as many as he could and took them to the local monastery. After he explained the effect of the berries to the chief monk, the chief declared them the devils work and threw them into the fire. Within minutes the monastery filled with the sweet aroma of roasting coffee beans. The beans were recovered from the fire and placed in a jug then covered with hot water. That night the monks sat up drinking the first cup of coffee.

Others believe it started with religious beliefs. Islamic legend ascribes the discovery of coffee to devout Sheikh Omar, who found the coffee growing wild while living as a recluse in Mocha, one famous coffee producing place in Yemen. He is said to have boiled some berries, and discovered the stimulating effect of the resulting brew, which he administered to the locals who were stricken with a mysterious ailment and thereby cured them. There are Arabic scientific documents dating back to AD 900 referring to a beverage drunk in Ethiopia called buna might be one of the earliest references to Ethiopian coffee in its brewed form. And later in Mecca the first coffee houses were said to have been established.

The truth is no one knows for sure when coffee developed as a beverage but most agree that it originated in the Kaffa region in Ethiopia hence the similarity in the name Kaffa/coffee. It spread mainly as an edible product mostly for the caffeine and the effects it produced. However, it is known that about 600 years ago coffee made its way to Yemen, then from Arabia began its journey around the world changing and improving into the coffee we know and love today.

For free email and a discount on fresh roasted coffee visit JetBean.com.

:: Posted by: JetBean at 8:15 PM
:: 0 Comments -- Post a comment
:: Email this article to a friend:



Sunday, November 20, 2005 -----



Kona Coffee from Paradise

Coffee is not actually native to Hawaii. It was brought over from Brazil by Reverend Samuel Ruggles in the early 1800's while he was doing missionary work there. In 1899, the price of coffee crashed and many of the huge plantations were broken up. These smaller coffee plantations were leased to the families that had worked on them. Those same small family coffee farms are still located in Hawaii today.

Kona coffee is found in Hawaii but it can only be found in the exclusive Kona region on the west coast of Hawaii Island. There are other types of coffee produced in Hawaii but Kona is considered head and shoulders above the rest.

Much of the special charm found with Kona coffee is found in its production. The Kona region is almost 2300 acres of land and is home to over 600 independent coffee farms. The small, family owned farms can still be found harvesting their coffee crops by hand.

Kona coffee can best be described as a medium body with a rich flavor mingled with hints of wine and spice. As with all coffee varieties, peaberry is absolutely the premium choice of Kona. There are usually two beans in each coffee cherry, but in rare cases when only a single bean is formed, it is generally regarded as much more flavorful than regular coffee. This oval (or pea-shaped), solo bean is known as peaberry.

JavaLove.com, where you get free email and a discount on coffee.

:: Posted by: javalove at 7:26 PM
:: 0 Comments -- Post a comment
:: Email this article to a friend:



Sunday, November 13, 2005 -----



Coffee

I found this great quote that was written in the early 1800's:

This coffee plunges into the stomach...the mind is aroused, and ideas pour forth like the battalions of the Grand Army on the field of battle.... Memories charge at full gallop...the light cavalry of comparisons deploys itself magnificently; the artillery of logic hurry in with their train of ammunition; flashes of wit pop up like sharp-shooters.



Honore de Balzac (1799 - 1850)



:: Posted by: Bello Montana Roasters at 2:47 PM
:: 0 Comments -- Post a comment
:: Email this article to a friend:



Tuesday, November 08, 2005 -----



Coffee Does Not Increase Women's Blood Pressure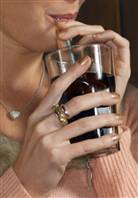 ...or at least that's what they say today in a recent study. MSNBC posted an article today on the affects of on blood pressure from drinking soda and coffee.

"Caffeine is a well-known ingredient in both beverages, and has been shown to cause short-term increases in blood pressure. But coffee drinkers in the study were no more likely than abstainers to develop high blood pressure during 12 years of follow-up."

Read the full story here...

:: Posted by: Chris at 4:33 PM
:: 0 Comments -- Post a comment
:: Email this article to a friend:




STOLEN COFFEE!

I have had a mystery of disappearing coffee for weeks.

I have noticed my lovely little bags of Bello Montana have been going missing lately- admittedly, I drink ALOT of coffee - but I am not senile and I know when I have coffee left! I watch a lot of CSI and Cold Case Files, I knew I had a mystery to solve!



First I looked around my house could I have left it anywhere? No. Then I looked at the people in the house. Was it my partner...no, my daughter...no, my toddler....no. I went through who has been in the house on a regular basis and I really couldn't think of anyone. Maybe I AM getting senile..... Then, my neighbor knocked on my door and he was holding coffee and I could smell it was my missing America The Beautiful Blend!

He's been my neighbor forever, just goes to show it's the last person you think it is.... I asked him if he had been "borrowing" coffee from me and he looked pretty guilty and said he had "borrowed" a bag because it was so good and he had planned on letting me know...

I told him there was this really cool procedure when people want to borrow things called "Asking" and it works really well....geez I would have given him all the coffee he wanted if he would have asked.



So, he went next door and brought my coffee back and I made us a pot of coffee and we drank it and had a laugh about how hard I had to get him to even try Bello Montana Coffee (seriously, I felt like we were playing out some kind of weird Dr. Seuss "Green Eggs and Ham" except with Coffee....) and now he's turned into someone being driven to spirit my coffee away...... But coffee is safe in the cupboard again and my coffee cup is full - so life is good again.

:: Posted by: 3am Art at 10:50 AM
:: 0 Comments -- Post a comment
:: Email this article to a friend:



Archives
July 2005 August 2005 September 2005 October 2005 November 2005 December 2005 January 2006 February 2006 March 2006 April 2006 May 2006 June 2006 July 2006 August 2006 September 2006 October 2006 November 2006 December 2006