Gourmet Coffee Shop
FRESH ROASTED COFFEE TASTES BETTER!
If the coffee you buy from Bello Montana Roasters is not the absolute best coffee you have ever tasted, we will refund your money. No questions asked.
Sunday, January 22, 2006 -----



Flavored coffee?

Some contend that with good coffee you don't need flavoring, but I like a little flavor in my coffee occasionally, just a little something different to provide some variety to my drink. Instead of buying flavored coffee, a better choice is to add your own flavor to a good quality coffee, like Bello Montana. Usually the flavored coffee bought in the store is made with low-quality beans because if they are going to add chemical flavorings anyway why use expensive beans.

I've tried some different flavorings in my coffee. One of my favorites is to use coffee to dilute my hot chocolate. It gives it a mocha taste. I've also tried to put some cinnamon in the bottom of my filter and then add the grounds. This was okay, but I think I need to add a little sugar afterwards to bring out the flavor. This is a combination I'm still perfecting. Maybe the cinnamon and the hot chocolate.

Contrary to previous posts on this blog, I love eggnog in my coffee. Just about a tablespoon is enough to give the coffee a little creamy taste with a hint of nutmeg. Maybe the results depend on the brand of eggnog used.

I've heard people mention Altoids for a peppermint flavored coffee. Not sure this sounds good to me. Hmmmm . . . . I wonder how a cinnamon Altoid would taste. Vanilla sounds good too. I'll have to figure that one out. I bet I'll have to add some sugar.

Hmmm . . . . . think I'll go brew a pot of coffee and do some experimenting.

Stop by the BeanDaily.com for free email and a discount on fresh roasted coffee.

:: Posted by: BeanDaily at 2:56 PM
:: 0 Comments -- Post a comment
:: Email this article to a friend:



Wednesday, January 18, 2006 -----



"Here's your COFFEE Sign!"

So I really do not have that much to say about coffee today. Other than this morning my sisters stole a cup from me. She does not drink black coffee but is out of the instant "coffee." I woke up late and she asked for a cup but claimed she did not know how to brew one. After giving her the "a 10 year old could figure it out" look, I explained that with my new fancy coffee grinder all she had to do was set the number of cups on the knob then press start. "Then what?" was her reply. "THEN WHAT!?" It is not rocket science but since there is obvious coffee incompetence let me break it down for you: Remove the container of freshly ground coffee beans; get a filter place it in the coffee maker; put coffee in filter; fill up my travel mug and what ever you are going to drink out of with water and put it in the back of the coffee maker; finally turn it on. "Here's your sign!" (Okay not really but close)

My sister and I have class at the same time so we walked to campus together. It was a bit cold especially carrying my mug of coffee without gloves but hey at least my body was warming up from the America the Beautiful Blend of coffee from Bello Montana. Unfortunately or fortunately, half way through my history of British literature class I started shaking from the high amounts of caffeine. In that class I am one of 6 students: 3 grad and 3 undergrad. It will be a fun class my teacher is a very knowledgeable dork who collects first edition published books and showed us some of his collection today. (Anyone out there collect coffee paraphernalia? If so re-evaluate-nah do what makes you happy) May your days be filled with coffee wishes and freshly ground dreams.

For free email and a discount on fresh roasted coffee visit JetBean.com

:: Posted by: JetBean at 11:45 AM
:: 0 Comments -- Post a comment
:: Email this article to a friend:



Friday, January 13, 2006 -----



Coffee Diet?

Have you heard about the Sonoma Wine Diet? No it's not the "Drink til ya look good" diet - it is actually a diet that is becoming all the rage and it incorporates a glass of wine in your diet, not surprisingly - it originated in California Wine Country. Basically it is based on eating (gasp-shock) fruits and veggies and meat in moderation and enjoying a glass of wine. It also throws out the groundbreaking idea that one should exercise... what a concept!

It made me wonder if anyone had come up with a coffee diet.

I googled the phrase "coffee diet" and didn't come up with much, but I did find the extremely funny "Coffee and Ice Berg Lettuce Diet" from National Lampoon that was definitely worth a look.

So, as far as I can see, no one has created a coffee diet... who knows it might be the next big thing!

~J

did you know if you get a zbean address you can get discounts on coffee if you use your zbean addy when ordering?

:: Posted by: ~Just Me Again at 10:33 AM
:: 0 Comments -- Post a comment
:: Email this article to a friend:




Fresh Roasted Coffee

I am so addicted to Bello Montana's Espresso Blend. I can't even buy a Cafe Latte out and about anymore.
As I try more and more Bello Montana blends, I find less and less coffees that I can stand anymore that are available when I'm out running around town. Star-WHO?



My partner got a short gig creating recipes for this macadamia nut company. (It's so funny when the client calls, he refers to himself as "The Nutty Guy"), and our house has been smelling wonderful with macadamia nut cookies, cakes and pies. We've

had a few failures and much like our egg nog/coffee experiment, have found a few things that you just can't mix macadamia nuts with!



I've been brewing pots of Espresso Blend to have with our cookies, oh darn now we're really awake and need to stay up and eat more macadamia nut cookies!



Off to see how the creation process is going!





~JoLynn





PS - did you know you can get discounts on coffee if you get a

zbean

email address and order your coffee through it?




:: Posted by: ~Just Me Again at 10:26 AM
:: 0 Comments -- Post a comment
:: Email this article to a friend:



Tuesday, January 10, 2006 -----



Ethiopian Experience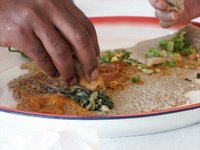 Before I get to my story I have to say thanks to my dad for sending me Columbian coffee beans straight from the homeland. And thanks Raul and Samantha... I will be enjoying a cup tomorrow morning! (If only he would have remembered my Bello Montana Espresso Blend from home, I think he just wants to keep it for himself it is so good.)

A few nights ago I went to dinner with my friend Kate. We always have great conversations while dining at interesting places. We went to an Ethiopian restaurant (I didn't even know they existed.) It was great food! The meats and vegetables are served on an edible "tablecloth" called injera which is sourdough pancake-like bread. It tastes kind of bitter but it is by no means bad I rather enjoyed it. Have you ever been to a Japanese steak house where they bring out rolled up wash clothes before your meal? Well, at this particular restaurant they bring out rolled up injera (it looks almost exactly the same as the wash clothes) and they don't give you any plates. You just grab an injera "roll" pull off a piece and with it, grab the food. Then when you run out of those just start ripping up the "tablecloth." If you have not been to an Ethiopian restaurant and enjoy foreign foods I highly recommend finding one in your area.

So what does this have to do with coffee? Well I told you Kate and I have great conversations together but it is a little hard to do that while we are stuffing our faces with food. But after our meal we both ordered house coffee and sat for the next two hours catching up on life and enjoying what ended up being 5 cups between the two of us. See coffee lovers-not only are you going to get a good meal but afterward can enjoy a wonderful cup of authentic Ethiopian coffee, or in my case 3...

For free email and a discount on fresh roasted coffee visit JetBean.com

:: Posted by: JetBean at 11:09 PM
:: 0 Comments -- Post a comment
:: Email this article to a friend:



Sunday, January 08, 2006 -----



How Do You Store Your Coffee?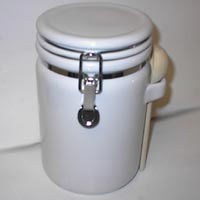 The biggest enemies to stored coffee are moisture, air and time, so an opaque glass or even a ceramic, air-tight container is in order. Glass or ceramic is best because it won't absorb any of the oils or odors from the coffee and pass those along to other coffee stored in the container later. Store your glass/ceramic container out of the sun, because light will also decrease the freshness of your coffee.

The best way to always have the freshest coffee is to only purchase what you can consume in a week or a week and a half after it's roasted. Ideally you have a roaster like, Bello Montana, who can deliver your coffee regularly or a roaster who is nearby. Then you don't have to worry about long-term coffee storage. Freezing coffee for regular storage is not ideal, but if you must store your coffee for a long period, freezing is better than storing it at room temperature. Freezing affects some of the flavors of the coffee and there is the risk, when you are thawing the coffee that the container will sweat and get moisture in your coffee. No good. If you are going to freeze coffee for long-term storage, separate your coffee into portions that can be used in a week or so. When you need more coffee, take out one of the smaller portions ideally the day before you need it so it can thaw. You want to try avoid taking coffee in and out of the freezer and exposing it to moisture in the process.

Of course, the answer to all this freezing of smaller coffee portions is to have Bello Montana deliver it to your door freshly roasted. The coffee will taste so good you will drink it before you have to store it.

Stop by the BeanDaily.com for free email and a discount on fresh roasted coffee.

:: Posted by: BeanDaily at 5:08 PM
:: 0 Comments -- Post a comment
:: Email this article to a friend:



Thursday, January 05, 2006 -----



Care and Cleaning for the Best Coffee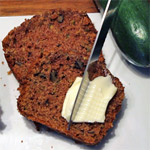 So, I have to admit, I don't clean my coffee pot everyday with soap and water. Some days it's just a rinse before the next pot. I very rarely do a thorough cleaning of the coffee machine itself, but here is what you are supposed to do. You should clean the pot and the filter container, at least lightly, after each use. This will remove the oils that can stick to glass, plastic or metal and affect the flavor of subsequent pots of coffee. A thorough cleaning of the coffee pot and filter container is in order at least once a week. Mine gets put through the dishwasher a couple of times a week, when it's convenient.

If you can't wash every time, an alternative would be to put a couple of drops of dishwasher detergent in the carafe and then run hot water through the coffeemaker to fill the pot. Let the full pot sit and next time you want to make coffee, rinse out the pot and go.

To clean your coffee machine, you can get commercial cleaners, but I have never done that. Something about maybe not getting all of those chemicals out of the machine and them getting into my coffee gives me the willies. I've always used vinegar, which is a good alternative. Mix some vinegar with water in the carafe and pour this into your coffee machine and let it run through. If you do choose to use a commercial cleaner or vinegar, make sure to run plenty of fresh water through the machine to rinse. If you don't, you may discover a new flavor in your coffee, one that will not be enjoyable.

The point of all of this cleaning (with the addition of some Bello Montana) is to give you the best coffee experience every time.

Stop by the BeanDaily.com for free email and a discount on fresh roasted coffee.

:: Posted by: BeanDaily at 9:11 PM
:: 0 Comments -- Post a comment
:: Email this article to a friend:



Tuesday, January 03, 2006 -----



Coffee-licious New Year

You know this is the first New Year's in many moons I didn't drink a drop. I was the only person around here that felt great on New Year's morning too!

Instead of imbibing in the usual libations, I brewed up a pot of Bello Montana Espresso Roast and munched on tapas all night. If you haven't had tapas, they are absolutely yummy. We had a ton of people over and an equal ton of food to feed them all. My partner loves to create recipes and he actually makes a living creating recipes for different companies.
So the food here is always splendifferous.

I laughed, sang and danced - watching everyone else get plowed and sipped my Espresso and had an overall great time!

And this year NO HANG OVER!!!!

What did you do for New Years?

J

you can get cool discounts on coffee if you set up a zbean email address and use it when you order from Bello Montana Coffee... get the Espresso...come on - you know you wanna.

:: Posted by: ~Just Me Again at 5:13 PM
:: 0 Comments -- Post a comment
:: Email this article to a friend:




Ah. . . coffee again.



So, I'm a returning coffee drinker. I used to drink coffee, not a lot, but just enough to get me going in the morning. Then life happened and I gave up coffee because I was pregnant and read that caffeine interfered with the body's ability to absorb calcium, something I thought might be important when making a baby. So, without caffeine, really, what's the point in drinking coffee. I switched to decaf tea.



That was seven plus years ago. Then within the last year my coworkers started making "runs" to the local coffee shop for lattes and coffee straight up and this new guy who just happens to roast his own coffee came to work part time and brought this wonderful coffee (my favorite is the America the Beautiful Blend). So, I decided resistance was futile. Now, whenever the office makes a run to the coffee shop, I'm there trying something new. I've even been trying new coffees and flavors at home, but the best so far has been the fresh roasted coffee from Bello Montana. I bought a new coffee maker and am considering my own grinder. I still don't drink more than one or two cups a day, but I haven't forgone coffee all together and I think I appreciate it more, when I don't drink it all the time. I find myself looking forward to that next cup.

Stop by the BeanDaily.com for free email and a discount on fresh roasted coffee.

:: Posted by: BeanDaily at 4:12 PM
:: 0 Comments -- Post a comment
:: Email this article to a friend:



Archives
July 2005 August 2005 September 2005 October 2005 November 2005 December 2005 January 2006 February 2006 March 2006 April 2006 May 2006 June 2006 July 2006 August 2006 September 2006 October 2006 November 2006 December 2006 January 2007 February 2007 March 2007