Gourmet Coffee Shop
FRESH ROASTED COFFEE TASTES BETTER!
If the coffee you buy from Bello Montana Roasters is not the absolute best coffee you have ever tasted, we will refund your money. No questions asked.
Wednesday, December 28, 2005 -----



How Do You Like Your Coffee?

True story: my friends and I decided to watch all three Lord of the Rings uncut DVD's yesterday which takes about 11 1/2 hours. Well I didn't go to sleep until 4 the night before so during the marathon I had two full pots of Bello Montana Espresso blend coffee, probably not great for my heart but it was great and kept me up and continues to as I write this at 4:40am... Great coffee everyone should try some!

So how do you like your coffee? Black? With cream and sugar? Large, iced, caramel macchiato, with 4 shots of espresso, vanilla, whip cream, and obsessive amounts of caramel syrup? Rectally!?

Uh, did he just ask that?

Yes I did! Coffee enemas are increasing in popularity. Okay maybe not but they ARE real things-come on I could't make that up. They are supposed to be very good for you, cleans you out you know? It has something to do with the caffeine that is absorbed that stimulates and relaxes the smooth muscles causing dilatation of blood vessels and bile ducts. It is also supposed to be good for your liver by carrying away toxins in bile acids. Can't say that I have tried it or will ever but some people swear by it. So hey, if you are feeling adventurous you might as well give it a shot. You can buy the specially made coffee product on the internet it is not hard to find and it sells for about ten dollars a pound. It is a specially made coffee product so do not try an enema using regular coffee, and don't brew up a pot of the specially made stuff because it will not taste good.

For free email and a discount on fresh roasted coffee visit JetBean.com

:: Posted by: JetBean at 4:15 PM
:: 0 Comments -- Post a comment
:: Email this article to a friend:



Monday, December 26, 2005 -----



Happy Holidays ME!

Merry Christmas me, oh yeah and everyone else too-happy holidays etc. This Christmas was amazing filled with everything I could possibly ask for and many things I didn't but thoroughly enjoyed! A few weeks ago maybe a month or so my aunt hooked me up with a job. I work for a mysterious coffee man and I am enjoying it. Since she hooked me up though my entire family had caught wind of what I am doing so guess what my stocking was filled with this year... Yep! Coffee: coffee products-everything coffee. It would have been funnier if my stocking was filled with loose coffee beans but that would have been a big mess.

My immediate family opened presents at 2:00am Christmas morning. But we had another Christmas later that day at my aunts house. In between the large-very delicious meal and coffee and dessert we opened presents. I had no idea what my grandma was going to get me (not going to lie I thought it was probably going to be a sweater...) but when I opened the box I pulled out a coffee pot. NO! I was immediately corrected, it wasn't a coffee pot. It was a coffee grinder. NO! It was not a coffee grinder (someone had read a previous post.) But it was like a coffee grinder they were calling it a coffee masher although it doesn't really mash but it is supposed to be better for flavor etc. It is incredibly nice and completely unexpected. So apparently if you want to make coffee the right way you are not to use a grinder but I am no specialist so ask around.

Well, happy New Years and may next year bring you all the coffee of your dreams.

For free email and a discount on fresh roasted coffee visit JetBean.com

:: Posted by: JetBean at 12:16 PM
:: 0 Comments -- Post a comment
:: Email this article to a friend:



Sunday, December 25, 2005 -----



Fresh Roasted Coffee Presents Rule!

Just wanted to let you know, the coffee gifts were a huge hit. Everyone had a great time opening and sniffing their coffee! The cups and everything just went together so great. I wind up just giving myself a headache every year because I want to do something special for everyone and this year, Bello Montana made it easy!

The America blend seems to be everyone's favorite, but I gotta admit, Espresso is my brew of choice.

Have a super safe and wonderful holiday season, no matter what you celebrate!

JoLynn

By the way, you can get a free SPAM FREE email address and discounts on coffee if you get a zbean email addy -check it out http://www.zbean.com


:: Posted by: ~Just Me Again at 4:58 PM
:: 0 Comments -- Post a comment
:: Email this article to a friend:



Wednesday, December 21, 2005 -----



Speaking of Experiments

As you know or may not know, my partner makes some of the yummiest custom recipes for businesses around. Our home is forever smelling of his creations.

He might be making a new type of cheesecake for a dairy to mass produce, a new salad dressing blend, creating 50 ways for someone to use their Salsa that they are selling or other yummy things.

Sometimes there are ummm... interesting results. He was fiddling around in the kitchen tonight and this egg nog company wanted him to create a non-alcoholic egg-nog drink. We were tossing around ideas of add-in's for the egg-nog and we got to coffee.

Why wasn't there an egg-nog and coffee creation? So we brewed up a fresh pot of Bello Montana's America The Beautiful Blend (our favorite!) and proceeded to mix it with egg-nog.

The results were....stomach churning.. the yummy egg-nog and the delicious Bello Montana Coffee hit your stomach and began a fist fight...wow was it AWFUL... So now you know why egg-nog and coffee haven't been combined - they're delicious on their own - but horrible together. Thought I'd save you the excursion into cuisine madness.

Have a great safe holiday season,

JoLynn

Get your own free e-mail get discounts on coffee at www.zbean.com

:: Posted by: ~Just Me Again at 8:18 PM
:: 0 Comments -- Post a comment
:: Email this article to a friend:




Winter Solstice Coffee



Happy Holidays Everyone!



We made a huge batch of Espresso blend this morning.. that always makes me smile when I wake up smelling it and over breakfast we were watching the talking heads on the morning news and one of them was showing how you could balance an egg on its smaller end at the peak of Solstice .



And we decided to try it. Now, here in lovely exotic Toledo Ohio it is about 12 degrees and icy/snow on the frozen solid ground. But we decided to try it anyway.



We trudged out with our steaming coffee mugs in hand and put the egg on its small end...and i guess it had a little moisture or something because it stuck tight to the icy sidewalk... bad show too, we found out this happened because when my partner went to pick up the egg, it broke in an oooey gooey mess....



So much for experiments.





Have a great holiday season everyone!




JoLynn



Get your own free e-mail get discounts on coffee at www.zbean.com

:: Posted by: ~Just Me Again at 7:31 PM
:: 0 Comments -- Post a comment
:: Email this article to a friend:




Vietnamese Coffee Hardships



Sad news: A flood today went through Vietnam's central coffee belt. The damaged

coffee

area is around 900 acres however the important crop was not damaged. The rains have mostly affected the drying process of the coffee cherries which has raised concerns about the quality of the

beans

. The area that flooded produces one third of the counties coffee. And here is an interesting fact: Vietnam is the second largest producer of coffee in the world passed up only by Brazil. As a coffee

drinker

I feel it is my duty to contribute to the relief, after all that is what we do here right? I have never had Vietnamese coffee I absolutely need to try it!

Maybe the reason I have not had any yet is because Vietnam has been having a hard time establishing itself as a player on the coffee world market. And even though the output is high for Vietnamese coffee it is exported at fifty to one-hundred dollars per metric ton lover than prices on the London exchange. To help boost their coffee market, major Vietnamese companies are investing in instant coffee with the intent to export the majority of that to China and the US.

Something that is kind of cool: At the beginning of December Vietnam had their first ever coffee festival where visitors were treated to live music and a procession of coffee products. Fruit-bearing coffee plants and giant coffee filters were carried across the backs of elephants. The festival was to help traders and producers of coffee sign deals with Vietnamese manufactures. I do not know about you but being hopped up on coffee, in a foreign country, with elephants running around sounds like a party!

For free email and a discount on fresh roasted coffee visit

JetBean.com



:: Posted by: JetBean at 6:01 PM
:: 0 Comments -- Post a comment
:: Email this article to a friend:



Tuesday, December 13, 2005 -----



When coffee is all you got...

That's how I felt this morning: like Coffee was the only thing I had going for me. Yesterday the coffee gods blessed me with some Bello Montana Espresso Blend coffee beans. That's right, coffee randomly showed up on my door step and it was either a gift from my dad or my boss; no one has confessed yet (either way THANK YOU!) But there was a problem. I am a poor college student, living on my own, (I am ashamed to admit it so ill do it with a cough and a whisper) and I do not have a coffee grinder *cue the scary music and the high pitched scream* I do not have the funds to buy one so I spent some time yesterday calling everyone I could think of that might have one. After about the 20th phone call my friend Moose came through. He is a coffee lover as well and we had shared many a cup last year while we were both still living in the dorms and even though I wanted to hoard the coffee for myself I had to invite him over for a cup since he is the one that saved me from the situation. And you know what? The coffee was glorious! I decided at that point that I would get up every morning this week (since it is finals) and have myself a pot-I'm glad I did.

Today was my first day of finals. I had one at 7:30am and have another at 11:50. The 7:30 is the only one I knew would give me trouble: Statistics, and I spent a long time studying for it but thought it was difficult. The only joy I got this morning was while I was drinking my coffee and on the 7th page of the final was a question relating to coffee statistics. I'm 100% certain I got that one right and it made me smile. Thanks coffee for saving my morning!

For free email and a discount on fresh roasted coffee visit JetBean.com

:: Posted by: JetBean at 9:05 AM
:: 0 Comments -- Post a comment
:: Email this article to a friend:



Monday, December 12, 2005 -----



Fresh Roasted Coffee and Cookies and Discounts Oh My!

This holiday season is going so fast for me! Does the time seem to be going faster for you too?

I decided to take the advice from the front page of the Bello Montana site and brewed up a pot of America The Beautiful blend while I finish my holiday cards to send out (yeah I know I should have had that done ages ago), and plus I just wanted cookies. ha ha.....

If I have to do manual labor, I'm gonna get a reward for it!
Jo


By the way: Discounts on coffee and get your own free email at zbean.com!

:: Posted by: ~Just Me Again at 12:44 PM
:: 0 Comments -- Post a comment
:: Email this article to a friend:



Thursday, December 08, 2005 -----



Gourmet Coffee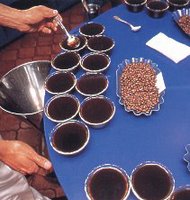 Gourmet, premium or specialty coffee as it is known, is coffee produced from only the best beans grown in ideal coffee-producing climates given the greatest care in the growing, harvesting, and roasting processes. Their distinct flavors are thought to be attributed to the unique characteristics of the soil in which the coffee trees grow. These specialty coffee farms are located in southern Central America and the northwestern side of South America. A coffee buyer from Ireland coined the term specialty coffee in 1974 and with the growth of coffee shops and coffee retailers in the 90's specialty coffee became one of the fastest growing food service markets in the world. In 2004 alone it is estimated to have made a net worth of over nine and a half billion dollars. That's a lot of people loving coffee!

So who decides what is and what is not specialty coffee? Well believe it or not trained professionals called 'cuppers' are the ones deciding this. They are looking at six characteristics: body, aftertaste, nose, fragrance, aroma, and taste. Taste is obvious it is simply the flavor of the coffee. Aroma is the smell of ground up beans after they have been run through water. Fragrance is the smell of the coffee beans after grinding. Nose deals with the vapors released by the coffee in your mouth. Aftertaste is the flavors and vapors left after swallowing the coffee. And body is the feel of the coffee when it is in your mouth. I don't know about you guys but sign me up for that job! Spending your days tasting all different kinds of wonderful coffee and getting paid. Have I died and gone to heaven? I think I have found my true calling in life. I'm going to become a cupper.

For free email and a discount on fresh roasted coffee visit JetBean.com

:: Posted by: JetBean at 3:42 PM
:: 0 Comments -- Post a comment
:: Email this article to a friend:



Tuesday, December 06, 2005 -----



Kopi Luwak Bello Montana?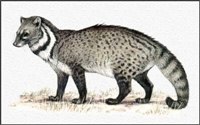 Okay it's no secret I love coffee, I mean really, really love coffee. I was watching this show the other night and it was about the coffee culture that is booming and all the lengths people go to in order to get the ultimate coffee fix (don't know about you but my coffee fix ended when I found Bello Montana), anyway -

They had the supposed world's most expensive coffee..... Kopi Luwak... Sounds exotic and inviting right?

Hey Scott, come over I just brewed up a pot of Kopi Luwak.

Well, apparently it's really tasty stuff, but after having seen the "production" process, I'll never know.

It's made by Civets (think little feral cat). No, not like civets going out and picking coffee beans and putting them into little sacks or little furry civets standing before huge roasters making sure the beans are done to perfection...oh no.

The Civets eat the coffee beans and they are very picky about the beans they eat, only eating the best and ripest beans. Then, the coffee beans pass through the animal's digestive track and when it's passed (to put it nicely), the beans are collected and used to make Kopi Luwak coffee. Only about 50 kilos of this unique coffee is "harvested" a year so it's not cheap.

So, I'll be drinking my Bello Montana until they come out with a Kopi Luwak blend.....

J

:: Posted by: ~Just Me Again at 10:32 PM
:: 0 Comments -- Post a comment
:: Email this article to a friend:




Coffee For Christmas!

I have a whole bunch of people that I need to get a little gift for but they are darned near impossible to get gifts for. If they want a toy throughout the year, they buy it. They have eclectic tastes on the most part, but I was trying to think about what I could get them that they would enjoy and then it hit me, each and every one of them has raved about the coffee when they come over... Now I just have to figure out what types to get everyone- narrowing it down is going to be rough....... but it's going to be a Bello Montana Christmas around here.

Hope your holidays are going grand!
J

:: Posted by: ~Just Me Again at 10:21 PM
:: 0 Comments -- Post a comment
:: Email this article to a friend:




Vacuum, Percolator, and Ibrik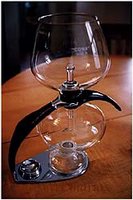 A device used to clean up things on the floor; the cousin of the Terminator; and gibberish? Or different ways to prepare a nice cup of coffee? If you guessed the second one you are correct!

Vacuum is one of the most unique methods for preparing coffee. The coffee brewing device uses two glass bowls one on top of the other connected by the top globes tube. Cold water is placed in the bottom glass and coarsely ground coffee is put in the top glass. The coffee machine is then placed on a stove top to heat up. As the water in the lower container heats up it is forced up into the top bowl where the coffee is by means of steam pressure and then mixes. The pot is removed from the stove and within a few minutes the liquid coffee falls into the lower pot leaving the coffee grounds behind.
Percolators seem to be the black sheep of the coffee making world. It uses a process that goes against the traditionally accepted coffee making process. Here boiling water is pumped through a tube where it mixes with coffee grounds. This process is continuous as the coffee brews and tends to result in coffees bitterness and acidity. Because the coffee is constantly being reheated and put back through the grounds it extracts the oils and kills the flavor.

Ibriks, I am not going to lie, I find a bit strange. Ibrik is what the Greeks call them and cezve is what the Arabs call them. So what are they exactly? Turkish coffee pots thought to be the very first of all coffee pots. It is usually a brass container with a handle. Ibriks are most common in 4, 10, 14, and 21 ounces. They were originally designed to brew coffee in the hot desert sand. To make a pot simply fill the ibrik 2/3 with water (people usually add flavors or sugar to it) then top it with a heaping teaspoon of finely ground coffee beans and place it on the stove. The coffee on top creates an oven effect. As the water boils it foams up through the coffee. In preparation you are supposed to let the water foam up three times removing it from the heat just before it completely boils over-and that is the tricky part! Afterward pour slowly into mugs and enjoy.



For free email and a discount on fresh roasted coffee visit JetBean.com

:: Posted by: JetBean at 4:19 PM
:: 0 Comments -- Post a comment
:: Email this article to a friend:



Monday, December 05, 2005 -----



Coffee Preparations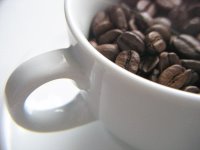 The most commonly served cup of coffee in the US is called 'Drip.' I am sure most of you are familiar with this. Essentially it is a method of pouring nearly boiling water over coffee grounds and is probably the easiest way to make a cup of coffee. The coffee is placed in a filter, either made of paper, or a plastic or metal permanent filter. Depending on what you like will effect which filter you should use. The paper filters tend to prohibit oils from the coffee grounds getting into the pot. Where as the permanent filters allow these oils to go through. You will have to try out both and see which one you prefer.

So what is French Press? AKA Press Pot? It is a glass container with a wire mesh attached to a plunger. You make it by again bringing water almost to a boil. The container should be preheated before putting the coffee in this is because it helps to keep the glass from absorbing the heat when the water is put in the press- it just makes for warmer coffee. For French press however, you need a very coarse grain of coffee grounds but it should be about the same amount as you would use in drip. Let it sit for two to three minutes or until it is fairly easy to press the plunger down into the mesh. Although it is impossible to not get any sediment into your cup since a paper filter is not used it is imperative that coarse grounds be used so as to reduce this sediment.

There are a few other ways to make a cup of coffee. These are espresso, vacuum, percolator, and ibrik. And with the exception of espresso the other three are not very common in the United States.

For free email and a discount on fresh roasted coffee visit JetBean.com

:: Posted by: JetBean at 5:00 PM
:: 0 Comments -- Post a comment
:: Email this article to a friend:



Friday, December 02, 2005 -----



Is Coffee the Same Around the World?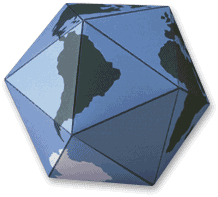 If you are lucky enough to travel around the world you will find that what people enjoy about coffee and its flavors vary greatly from place to place. Most Americans prefer a light roast but with the popularity of "corporate coffee" darker roasts are becoming more and more common. Also popular are flavored coffees but not because the bean itself has any special flavor but the aroma of the additive does.

In France, French roast is popular-it is very dark so watch out. But the French also favor cafe au lait which is simply half milk and half coffee.

In Austria Viennese roast is common and is a blend of two-thirds dark roast beans and one-third light roast. The reverse of those proportions is called European roast.

Italy is the king of espresso. Espresso is brewed by forcing steam through finely ground dark roast coffee beans. Espresso is very strong and by adding frothed milk espresso becomes such drinks as cappuccinos, macchiatos, and cafe lattes.

Turkish coffee to put it in a turkish proverbs words is "Black as hell, strong as death, sweet as love." You are going to have to make up your own mind if you want to attempt this brew. Turkish coffee is ground finer than espresso and brewed in little pots called ibriks or cezves it is also commonly spiced with cardamom, chicory, or coriander.

Cafe Cubano is similar to espresso and comes from Cuba. It is extremely strong and meant to be shot rather than sipped.

Thai coffee is probably different then most people are used to. Thai coffee is a strong served with ice and sweetened condensed milk. If you would like to try it at home simply add a tablespoon of sweetened, condensed milk to a 6-ounce cup of strong coffee and throw in some ice.

For free email and a discount on fresh roasted coffee visit JetBean.com

:: Posted by: JetBean at 5:03 PM
:: 0 Comments -- Post a comment
:: Email this article to a friend:



Thursday, December 01, 2005 -----



Espresso Espresso Espresso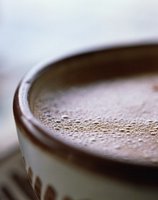 Espresso-derived from the Italian word for express- coffee is brewed by forcing hot water and steam through the coffee grounds giving it a somewhat scorched taste. In 1901 Luigi Bezzera filed a patent for a machine that contained a boiler and four "groups" that did just that. These groups took varying sizes of filters for the coffee and sent it through the hot water and steaming process. This is said to be the birth of espresso. In 1903 that patent was purchased by Desiderio Pavoni and in 1905 his company started manufacturing these machines. In 1927 the first espresso machine was installed in a restaurant in New York and it is still there on display.

Espresso can be defined as twenty-five to thirty milliliters of coffee concentrate produced from 197.6 degrees fahrenheit (or 92 degrees celcius) water forced through six to seven grams of finely ground coffee at high pressures for twenty to thirty seconds. The end result should be sweet with a potent aroma and a flavor similar to freshly ground coffee. The color should be dark reddish or brown and be smooth yet thick. There are hundreds and hundreds of different espresso machine manufactures but the two largest are Saeco and Krups. If interested these machines will run you anywhere from slightly under $500 to around $1,500-well worth it for anyone in love with the lovely taste of espresso. And if you are a coffee lover and have yet to try espresso take my word for it, you will not be let down. Last March I spent a week in Rome. Our flight was over night so when we touched down we hit the ground running. The first chance I got I made my way into a little coffee house; realizing my body was not going to survive much more I opted for an espresso-marvelous! For that short week it became a ritual, I would get up have breakfast walk across the cobble stone street to the cafe and start my morning off with a cup of espresso.

For free email and a discount on fresh roasted coffee visit JetBean.com

:: Posted by: JetBean at 6:22 PM
:: 0 Comments -- Post a comment
:: Email this article to a friend:



Archives
July 2005 August 2005 September 2005 October 2005 November 2005 December 2005 January 2006 February 2006 March 2006 April 2006 May 2006 June 2006 July 2006 August 2006 September 2006 October 2006 November 2006 December 2006 January 2007 February 2007 March 2007