Gourmet Coffee Shop
FRESH ROASTED COFFEE TASTES BETTER!
If the coffee you buy from Bello Montana Roasters is not the absolute best coffee you have ever tasted, we will refund your money. No questions asked.
Saturday, August 27, 2005 -----



Coffee Products & Equipment



Howdy coffee lovers! I'm Chris, from Coffee Hownd, and I hope to be a regular contributor to this blog. Focusing on coffee products and equipment, we're building up Coffee Hownd to be a comprehensive product guide for all things coffee, and of course Bello Montana's excellent line of coffee products is listed amongst the rest and highly rated already!

Since new products are being added all the time from various manufacturers, I'll spotlight one of those new products per month like burr grinders, blade grinders, coffee makers, and more!

Also, if you know of a manufacturer please tell them about "the hownd dawg" so they can add their products... it's a free service and costs them nothing. By not charging anyone we hope to make it the ultimate source of products for coffee enthusiasts around the globe!

:: Posted by: Chris at 7:50 PM
:: 0 Comments -- Post a comment
:: Email this article to a friend:



Friday, August 26, 2005 -----



Candlelight Inn and Bello Montana


The Candlelight Inn in North Wildwood, New Jersy now serves Bello Montana Coffee. Candlelight Coffee Cuvee, a blend formulated especially for the guests of Candlelight Inn is a coffee with its own distinction. Roasted to a French Roast, Candlelight Coffee Cuvee is unique and exotic. Among the coffee beans that make up this wonderful blend you will find the uniqueness presented by a combination of Sumatran and Kenya AA coffees.

The Candlelight Inn provides the perfect setting for you to make memories every day of the year. Vacations or romantic getaways spent at our Victorian Inn, in North Wildwood, are always remembered as special. The Candlelight Inn is our small piece of the New Jersey Shore, near Cape May NJ, that we would like to share with you and your special someone.

We hope you will consider our bed and breakfast as a wonderful break from the traditional lodging found at hotels and motels. The Candlelight Inn is located in a lovely residential area of North Wildwood. It is a charming Queen Anne Victorian home that will take you back to a simpler time.

:: Posted by: Bello Montana Roasters at 1:56 PM
:: 0 Comments -- Post a comment
:: Email this article to a friend:



Thursday, August 25, 2005 -----



Burr Grinders


A good burr grinder will run in the area of $60.00 to $125.00 for the most common, with the actual upper end price being somewhere up in the heavens. The burr grinder is a vital step toward achieving "the perfect cup" of coffee. The bean is systematically cut in a controlled manner resulting in a uniform grind that is entirely controlled by the settings that the user chooses. Also, they are simple to operate and are not quite as noisy.

There are two main types of burr ginders: The "Wheel Type Burr Grinder" usually less expensive, and the "Conical Burr Grinder" often more expensive. The "wheel type" is a wheel with burrs imbeded into it that spins at a very high speed. The coffee beans fall through the grinding chute which are then crushed between the grinding wheel and a stationary grinding surface.

We recommend you have a high quality burr grinder to insure the best cup of Bello Montana Coffee everytime.


:: Posted by: Bello Montana Roasters at 2:31 PM
:: 0 Comments -- Post a comment
:: Email this article to a friend:




Blade Grinders - Consistantly Inconsistant
These are available for around $20.00. They consist of a rapidly spinning blade that cuts/breaks the beans into a consistency that will render an acceptable cup of coffee. They are the most common grinder around, probably because of its relatively low cost. This is a better option than buying your coffee already ground. Users get accustomed to the amount of time required to get the consistency that they desire, but still some granules are pulverized into a powder, while some others remain in a courser grain. Since there are various brewing methods, each requiring a unique grind, the shortcomings of the blade grinder quickly become apparent. Not to mention that the noise generated by the whirling blades colliding with the beans has reportedly caused a number of early morning familial fracases, adding yet more weight to the list of unfavorable aspects of the blade grinder.

We don't recommend blade type grinders due to their consistently inconsistent results.



:: Posted by: Bello Montana Roasters at 2:20 PM
:: 0 Comments -- Post a comment
:: Email this article to a friend:




Mexican Coffee



Coffee

arrived in Mexico at the start of the nineteenth century, although it wasn'texported in significant quantities until the 1870s. The Mexicans themselves consume over half the coffee produced in their country, with the US being the largest foreign customer, receiving over three-fourths of the exported

coffee

.





The coffee-producing regions of Veracruz and Chiapas account for 70% of theMexican coffee crop, with another 10% coming from Puebla and the remainder from other states, among them fertile Oaxaca. Nearly all of the coffee growers in Mexico work on farms of 25 acres or less, a far cry from the real and imagined coffee plantations of yesteryear. The finest grade of Mexican coffee is "altura," which means "high-grown." Wherecoffee is concerned, higher always means better, and the high-grown coffees of Mexico are considered very high-quality indeed and among the finest grown in the Americas.



:: Posted by: Bello Montana Roasters at 8:15 AM
:: 0 Comments -- Post a comment
:: Email this article to a friend:



Wednesday, August 24, 2005 -----



Dont Fault The Growers


An article from SFgate.com - Sept 30, 2004

Wholesale coffee prices have risen 36 percent in the last year in U.S. commodities markets. But to farmers, especially those who grow the specialty beans prized by coffee aficionados, the recent increases only begin to repair the damage of a disastrous price slump that has devastated regions such as Central America.

"We call it the coffee crisis,'' said Mike Ferguson, spokesman for the Specialty Coffee Association of America, which represents coffeehouses. "Coffee farmers were literally walking away from farms all over the world.'' Yet, even though the wholesale price of beans has jumped lately, coffee itself represents only a tiny fraction of what Americans pay for all those concoctions with the fancy names.

Take that double cappuccino, for instance. According to Ferguson's association, coffee makes up just 5 percent of the cost per cup.

In fact, all the ingredients -- from sugar and milk, which also have experienced double-digit increases over the past year, down to the cup, heat- sleeve and lid -- together make up less than 20 percent of the cost of the cappuccino, according to the association's estimates. Labor and rent account for a far larger share of the cost -- about 46 percent -- and other overhead and profit make up the rest.

Click here for the rest of the story...

:: Posted by: Bello Montana Roasters at 8:15 AM
:: 0 Comments -- Post a comment
:: Email this article to a friend:



Tuesday, August 23, 2005 -----



Columbia, The Land Of Coffee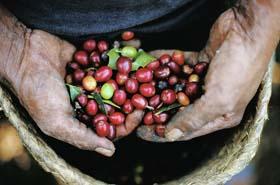 Grown in mountains just above the equator, the coffee plant is perfectly suited to the climate of Colombia, in which there are virtually no environmental catastrophes that plague other coffee-growing countries, such as hurricanes, frosts, or volcanic eruptions. The cherries are hand-picked, processed by machine, and exported year-round.

In general, two classifications of Colombian coffee are sold in the United States: Excelso and Supremo. These are size grades which are separated during processing. Supremo being the larger bean. Bean size alone has little to do with the cup quality; however, size grading is part of a series of steps to concentrate the defects (black beans, bean fragments, etc.) into the smallest portion of the production run possible. It is only through the efforts of small farmers and processors who care about the quality of their product, that we are able to buy our fine Colombian coffees.

At Bello Montana Roasters, we offer Colombian Supremo as part of a number of our blends. It is our opinion that a Full City Roast is best suited for Columbian Coffee. The Full City Roast results in a sweet, aromatic cup with medium body, without the dark, smoky taste.

:: Posted by: Bello Montana Roasters at 2:43 PM
:: 0 Comments -- Post a comment
:: Email this article to a friend:



Monday, August 22, 2005 -----



Coffees of New Guinea

The island of New Guinea lies just north of Australia, almost directly on the equator. The country of Papua New Guinea occupies the eastern half of this island, while the other half is known as Irian Jaya, part of Indonesia. The climate is hot and very wet, and the river valleys of the Western Highlands of Papua New Guinea provide a wonderful environment in which to grow coffee. The Wahgi River carves a fifty-mile long valley between four thousand meter high mountains. Plantations were established in this rugged area in the 1950's and 1960's, using seedstock from the fabled Blue Mountain region of Jamaica. The coffee produced by the top five plantations (Sigri, Kimel, Gumanch, Madan, and Wagamil) amounts to only about 14,000 bags per year, but it is among the best in the world. The coffee of Papua New Guinea is some of our favorites, all of which are renowned for their consistent quality. New Guinea Coffee, which produces a cup that is well-balanced, with a good body and lively acidity is well suited to a Full City Roast.

:: Posted by: Bello Montana Roasters at 8:11 AM
:: 0 Comments -- Post a comment
:: Email this article to a friend:



Saturday, August 20, 2005 -----



The Coffee Revolution


It wasn't too long ago that you could stop into a coffee shop, cafe or restaurant in any city or town in the country and the only option you had for your coffee was sugar, cream or both. Those were the days of mass produced coffee... roasted, ground and packaged (usually in a can) and sent through the supply chain to meet its consumer on the grocery store shelf.

Lately something has happened with our favorite drink. The enticing packages with their color and wonderful designs and the loose beans in the clear bins all shout out from the grocery store shelf "this coffee is going to be your favorite!". You can read on the package that it is from some foriegn land... usually a land of intrigue, where you have never been... or, given the choice, would never want to go. And, it seems, that everyone that is anyone, carries that certain cup around with them in the mornings on their way to work... which speaks aloud "I am someone... look how much I am willing to pay for coffee!"

The coffee shop, once a place to get a ten cent cup of Joe (with sugar or cream) has evolved into a cultural gathering place of the new generation. One thing hasn't changed... coffee still only stays fresh for about 14 days after it is roasted. It is true. That revolution was fought and decided long before the ten cent cup of joe.

:: Posted by: Bello Montana Roasters at 2:32 PM
:: 0 Comments -- Post a comment
:: Email this article to a friend:



Friday, August 19, 2005 -----



Morehead Manor Serves Bello Montana Coffee!


Morehead Manor, Durham, NC announces that it is now serving its own "Morehead Manor Blend" formulated and roasted by Bello Montana Roasters. This wonderful blend is not only enjoyed by the guests at Morehead Manor, but you can purchase this unique coffee right from their web site to enjoy at home.

The Morehead Manor was originally built for the CEO of Liggett and Meyers. This splendidly redecorated 8000 square foot, Colonial Revival Style home is located within walking distance to the Downtown area, the Durham Bulls Athletic Park and historic Brightleaf Square. Morehead Manor is just moments away from Duke University, North Carolina Central University, Research Triangle Park, RDU International Airport and is easily accessible to both Interstates 85 and 40.

For more information on the Morehead Manor, logon to their web site at: http://moreheadmanor.com or give them a call toll-free at (888) 437-6333

:: Posted by: Bello Montana Roasters at 5:08 PM
:: 0 Comments -- Post a comment
:: Email this article to a friend:



Thursday, August 18, 2005 -----



STTS Espresso Blend Iced Coffee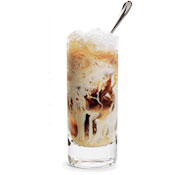 For some simple summer elegance, try this cooling taste delight! This is the easiest way to enjoy a full-bodied Iced Coffee Drink.

Make a STRONG pot of Bello Montana STTS Espresso Blend Coffee. Set aside to cool. Put 2-3 tablespoons of sugar or the equivalent of the substitute in a glass. Pour a little coffee in the bottom of the glass and stir sugar until dissolved. Put ice in the glass and pour the coffee over it. Add whipped cream to the top. Serve and enjoy a cold treat your friends will keep coming around for!!



:: Posted by: Bello Montana Roasters at 6:19 PM
:: 0 Comments -- Post a comment
:: Email this article to a friend:



Wednesday, August 17, 2005 -----



Coffee... The International Traveler


More than likely, your coffee beans are international travelers. There are over 30 species of the glorious bean growing plant, but most commercial coffee beans come from either the Coffee Arabica and Coffee Robusta plants. With a few exceptions, most coffee is imported from a few regions around the world. In fact, the only
place coffee is grown in the United States is in the state of Hawaii. Hawaii is the only place in our country where the climate meets the proper altitude for coffee growing.

South America produces around 30 million sacks of coffee per year. Brazil is the biggest producer of all with their natural Arabicas, followed closely by Columbia, Venezuela, Peru, and Ecuador. Central America and the Caribbean Islands produce a lot of high quality hand picked Arabica Coffee as well. In Mexico, Panama and the many Caribbean Islands, coffee cultivation is a huge part of their economy. Most of the coffee grown in the Caribbean Islands is of the Arabica variety.

In Africa, the best coffees are grown in the higher altitudes of Kenya, Tanzania, and Cameroon. Water is a precious commodity there, so the beans tend to be a little smaller but carry just as much flavor. Most coffee from Africa is the Robusta variety.

We all know good tea comes from Asia, but how about coffee? Asia is quietly becoming a strong player in the coffee export world. Most coffee that is grown throughout Asia is of the Robusta type, but slowly Arabica Coffee is taking its prominence there.

No matter where your coffee is from, you should enjoy it fresh roasted to truly get the most of its flavor. Check out our many fantastic blends of this truly international drink!



:: Posted by: Bello Montana Roasters at 5:03 PM
:: 0 Comments -- Post a comment
:: Email this article to a friend:



Tuesday, August 16, 2005 -----



Bello Montana Redesigned!



Very few companies really want to know what you think. They basically want you to buy their products and be happy with your purchase. Not only do we want your patronage, we want your opinions about our new web site, our products and our service.

Bello Montana Roasters is a company built on providing the finest fresh roasted coffee that you will ever have the sheer delight of tasting, and we can only make your coffee experience better with your input. You've probably seen coffee advertised as "fresh roasted", but unless you purchased coffee that wasn't roasted until your order is made like Bello Montana Coffee, you've been missing out!.

Bello Montana is a one of a kind company with our "roasted on demand" coffees and we want everyone to know exactly how fantastic our coffees are. Once people taste what fresh roasted coffee REALLY tastes like, they never want any other kind of coffee. Our loyal customers have proven that again and again by not only buying our fresh roasted coffees on a regular basis but by recommending our coffees to their friends, neighbors, and coworkers.

Please take just a moment to fill out our brief survey and give your honest opinions about our newly redesigned web site, our coffees, and our service. If you feel something could be better, we want to know what it is. In return for your very valuable input, we will give you a voucher worth $1. Now, that's a deal for just telling us what you think!

Click here to take the brief survey.



:: Posted by: Bello Montana Roasters at 10:59 PM
:: 0 Comments -- Post a comment
:: Email this article to a friend:




Coffee From Panama
Panama's highland estate coffees from the Boquete area consistently outscore the rest of the world in international coffee cupping competitions because of the excellent origin characteristics. In the 2003 Specialty Coffee Association of America (SCAA) Boston cupping competition, five Panama coffees from the Boquete region scored in the top ten out of 119 coffees from 15 countries. None of the judges were from Panama. The results captur

e the taste appeal of Panama estate coffees.



:: Posted by: Bello Montana Roasters at 8:26 PM
:: 0 Comments -- Post a comment
:: Email this article to a friend:



Monday, August 15, 2005 -----



Coffee Leads Men...

Coffee leads men to trifle away their time, scald their chops, and spend their money, all for a little base, black, thick, nasty, bitter, stinking nauseous puddle water.

~The Women's Petition Against Coffee, 1674

:: Posted by: Bello Montana Roasters at 8:39 AM
:: 0 Comments -- Post a comment
:: Email this article to a friend:



Friday, August 12, 2005 -----



Taking Bello Montana Fresh Roasted Coffee Camping

Some people call this "cowboy coffee", we've always called it "campers coffee".

We go hiking and backpacking a lot and my idea of camping out used to involve electrical outlets and room service, but I've really come to appreciate primitive camping. I can go without a phone, television and most modern conveniences, but I absolutely can not go without coffee, and since I have discovered Bello Montana's fresh roasted coffees, I am completely spoiled rotten.

Here's how to make Camper's Coffee:
Grind your Bello Montana coffee before you go camping!
Leaping Goats works especially well.

Bring one quart of water to a boil in a pan.
Add 3/4 cup of ground coffee.
Let pan come to a boil again and immediately remove from heat.
The pan should sit about 3-5 minutes and let the grounds sink.
Pour into cups/mugs and enjoy!

Next time you go camping, you don't have to go without good coffee, even if you're devoted to your one cup maker, give this a shot, it's fast, easy, and I guarantee you will love it!

:: Posted by: ~Just Me Again at 4:57 PM
:: 0 Comments -- Post a comment
:: Email this article to a friend:




Sumatra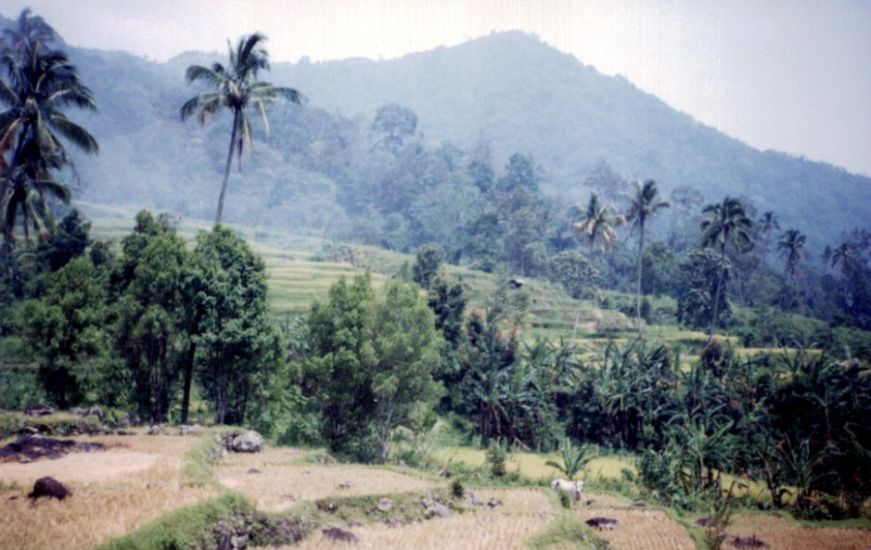 Coffee production in Sumatra began in the 18th century under colonial domination, introduced first to the northern region of Aceh around Lake Tawar Lake. Most coffee is produced around the Lake Toba region, in the subregions of Lintong Nihuta, Sumbul, and the aforementioned Takengon. But Sumatrans are not often sold by region, because presumably the regional differences are not that distinct. Rather, the quality of the picking, preparation and processing of the coffee determines much of the cup character in this coffee. In fact, Sumtrans are sold as Mandheling, which is simply the Indonesian ethnic group that is most involved in coffee production.





Sumatra is one of the great romance coffees of the world. It is not simply that the Indonesian island of Sumatra embodies a Conradian romance of the unfamiliar. When it is at its best the coffee itself suggests intrigue, with its complexity, its weight without heaviness, and an acidity that resonates deep inside the heart of the coffee, enveloped in richness, rather than confronting the palate the moment we lift the cup.



:: Posted by: Bello Montana Roasters at 8:02 AM
:: 0 Comments -- Post a comment
:: Email this article to a friend:



Thursday, August 11, 2005 -----



Grind Those Beans!

The fineness of the grounds has a major impact on the brewing process, and matching the consistency of the grind with the brewing method is critical to extracting the optimal amount of flavour from the roasted beans. Brewing methods which expose coffee grounds to heated water for a longer duration of time require a coarser grind than faster brewing methods. Beans which are too finely ground for the brewing method in which they are used will expose too much surface area to the heated water and produce a bitter, harsh, "over-extracted" taste. At the other extreme, an overly coarse grind will produce a weak, watery, under-flavoured result.

:: Posted by: Bello Montana Roasters at 12:54 PM
:: 0 Comments -- Post a comment
:: Email this article to a friend:



Wednesday, August 10, 2005 -----



Fortune Telling With Coffee Grounds

Next time you have your friends over for some coffee and conversation, have some extra fun and indulge in a little tesseography, the finding of omens in tea leaves and coffee grounds.

It's best done if you make your coffee in a french press as only a few grounds will get through and that's all you need.
To do this everyone needs a cup and a saucer. Have everyone leave just enough coffee to swirl a few grounds around and then swirl your cups three times and then quickly turn upside down on your saucers.
The bit of coffee left will drain out on your saucers and the grounds will remain stuck to the cup.

The handle represents you.
The closer a symbol is towards the handle - the closer something is about to happen near your home. On the left side of the handle means something is coming. On the right side of the handle means something is going away from you.
Look for letters, animals, and symbols.
Some common symbols are :

Angel: Good news and happiness approaching.
Baby : A minor worry.
Bear : Think twice about financial dealings
Bee : Someone from your past is looking for you.
Cat : A quarrel with a friend
Dog : Good, reliable friends or a faithful partner
Eye : Beware of jealously from others
Fish : Life will become richer
Heart: Love
Spider: Unexpected money on its way.
Sword: Enemies will fall.
Tree: Changes for the better on there way.
Triangle: A change coming. Pointing up - change is good. Pointing down - bad.

Now brew up a pot of coffee and impress your friends!

:: Posted by: ~Just Me Again at 9:36 AM
:: 0 Comments -- Post a comment
:: Email this article to a friend:



Tuesday, August 09, 2005 -----



Transformation During Roasting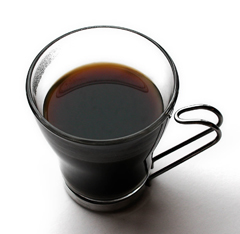 Roasting is an extremely delicate process and it is vital that it take place in warm air (indirect heating), without direct flame or combustion fumes entering into contact with the product, so as to obtain essential uniformity in the roasted coffee. As regards to the chemical transformations which take place inside the bean during this delicate process, it is important to know that coffee releases humidity and loses on average 20% of its weight. The sugars representing about 11-12% are caramelized thus giving the characteristic dark brown colour, and that several of the essential oils present tend to leak out and can be seen after several days on the outside of the bean.

After roasting, it is essential that the coffee be packaged immediately to protect it from being exposed to oxygen, while at the same time, the bean is releasing carbon dioxide... so the packging must also have a one way valve for the gas to escape. If the coffee is packaged properly, and in a timely fashion, you can expect the coffee to remain at its "peak freshness" for 2 to 3 weeks. After this period of time, the coffee bean will begin to lose up to 50% of its flavor and begin to develop bitter after-tastes.


:: Posted by: Bello Montana Roasters at 3:39 PM
:: 0 Comments -- Post a comment
:: Email this article to a friend:



Monday, August 08, 2005 -----



Finally, More People Are Drinking Coffee!

I just recently read that a survey which was done by the National Coffee Association (NCA) that showed the U.S. daily consumption of coffee had risen to over half the population at 53%. Imagine if all those people knew what a cup of fresh roasted coffee tasted like? Once you've had fresh roasted, nothing else will do. The greatest percentage of coffee drinkers seem to be between the ages of 18-24 according to the NCA survey.

An interesting aspect of the survey said that 6 out of 10 people knew about single-cup brewing technologies, but only 1 person out of 10 had owned a single-cup brewer. I don't know about you, but I think that's great technology, but I can not stop at just one cup. I grind those yummy beans (right now it's America the Beautiful Blend) and brew up a pot and maybe, just maybe, it will last all morning.

Just goes to show more and more people are discovering and re-discovering the great taste and health benefits of coffee.

:: Posted by: ~Just Me Again at 6:57 PM
:: 0 Comments -- Post a comment
:: Email this article to a friend:



Friday, August 05, 2005 -----



Coffee Chemistry



The aroma of a coffee is responsible for all flavor attributes other than the mouthfeel and sweet, salt, bitter, and sour taste attributes that are perceived by the tongue. Therefore, it might be said that the aroma is the most important attribute to specialty coffee. Even instant coffee has the components responsible for stimulation of our taste buds. The difference, however, is that instant coffee lacks most of the aromatic volatile compounds causing a dramatic decrease in the overall flavor.

Aroma is perceived by two different mechanisms. It can either be sensed nasally via smelling the coffee through the nose or retronasally. Retronasal perception occurs when the coffee is either present in the mouth or has been swallowed and aromatic volatile compounds drift upward into the nasal passage.


Translation... if your coffee is fresh, you can smell it and subsequently taste it. If it is not fresh, your nose will tell you first and then your mouth. Coffee has a peak freshness window of only 14 days from the day it was roasted... if it is packaged properly. The solution is to find out when your coffee was roasted and dont buy old coffee.




:: Posted by: Bello Montana Roasters at 4:24 PM
:: 0 Comments -- Post a comment
:: Email this article to a friend:




Another Great Reason To Drink Coffee



I just found another fantastic reason to drink coffee, as if I needed another one.





A recent study by the International Journal of Cancer found that coffee just might cut your risk of liver cancer. The study tested more than 60,000 Japanese adults and found that men and women who drank at least one cup of coffee per day were less likely to develop liver cancer than people who drank no coffee at all.




And even better, people who made coffee a habitual drink had almost 1/3 less of an incidence of liver cancer over the people who only indulged in a cup of coffee occasionally.





No one is sure exactly why this benefit occurs, but right now all signs point towards a compound called chlorogenic acid may be the prize fighter in the equation for having cancer fighting abilities.





I thought that was some awesomely good news and I can't help but think really good coffee, like the

Bello Montana

fresh roasted coffee that I know and love might just even be better!



:: Posted by: ~Just Me Again at 3:28 PM
:: 0 Comments -- Post a comment
:: Email this article to a friend:



Thursday, August 04, 2005 -----



Exotic Cafe'


Does the word coffee make you think of exotic lands? It should! Because the truth is, coffee has a deeply romantic past, steeped in mystery and adventure. It had many names, in many places.

Arab traders called it Gahwah. In the Spice Islands, it was called Java. Portuguese explorers called it cafe'. Today, there is no country in the world, where coffee is not loved and enjoyed, usually with friends. Coffee became a world of it's own. Every morning millions of people drink a cup of Coffee, before they leave home, and again million of people drink coffee, when they have their brake or arrived at home. In fact, "cafe'" has even come to mean a gathering place. But it all started a long, long time ago, in a desert far away...

:: Posted by: Bello Montana Roasters at 2:13 PM
:: 0 Comments -- Post a comment
:: Email this article to a friend:



Wednesday, August 03, 2005 -----



Coffee Cherry?



The coffee bean is the seed of a coffee cherry. Each winter (dry season) the ripe, red cherries are harvested using a variety of methods. The bean is covered by several layers including the silver skin, parchment (pergamino), mucilage, pulp, and skin. The interaction of the sweet mucilage with the coffee seeds governs much of the flavor of coffee as does the process in which the coffee beans are retrieved from the cherry. There are three processes that are commonly practiced including the wet-process, the dry-process, and the semi-washed method.

:: Posted by: Bello Montana Roasters at 7:29 PM
:: 0 Comments -- Post a comment
:: Email this article to a friend:




Leaping Goats Aroma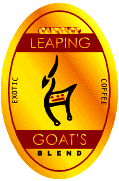 Sounds scary doesn't it? One of my friends said it sounds like unruly coffee, but I rather think it's more like coffee full of life!



Leaping goats

is my new favorite Bello Montana coffee.

America the Beautiful Blend

is awesome and I mean awesome, it's fantastic to wake up in the morning and have a cup of that fresh roasted brew, but if you love a rich bodied coffee, you will absolutely be hooked on Leaping Goats blend, even the beans pre-ground are pretty with all the different colors, and the aroma of Leaping Goats brewing has literally brought my next door neighbor over for a cup.



I got some great advice (thank you Scott!), regarding getting an airpot because air makes the coffee taste less fresh and wow, I must admit, it makes a huge difference. I didn't think it would keep the taste so fresh (not to mention hot!) but it really does.

Also, if you've never made coffee using a french press

, definitely try it one night.

A french press is so easy to use and it is ideal for serving coffee to small groups of people. My house always seems to be the gathering point for people after any sort of function, so I always have coffee (and now I can say I have really good coffee!) on hand.



The fresh roasted beans of Bello Montana really do make all the difference in the world for a cup of coffee versus a fantastic cup of coffee!



:: Posted by: ~Just Me Again at 7:11 AM
:: 0 Comments -- Post a comment
:: Email this article to a friend:



Monday, August 01, 2005 -----



Fresh Roasted Coffee

I have been drinking Bello Montana's fresh roasted coffee for a while now, and I've been telling everyone about it. I recently tried to convert a friend of mine who is a "Starbucks ONLY" kind of person. My friend Rob thinks that place is the end all for good coffee. How wrong, how wrong!

So, when I ordered and received my first bag, I was so wowed about the taste, I called Rob and told him to come by when he was out later, as I wanted to share some incredible coffee with him. He'd said he would stop by but he wouldn't try the coffee because nothing was fresher and better than Starbucks.
I told him Starbucks isn't even fresh roasted! I kept asking and asking, but Rob wouldn't even consider trying the coffee. Nothing was better than that "S" word place.

Anyway, after about 3 weeks of cajoling from me ( I even made him look at those cookies on the front page of the bellomontana website that made me drool like one of Pavlov's dogs!) and just when I felt like we were playing out a real-life version of Dr. Seuss' "Green Eggs and Ham", Rob finally gave in and tried a cup of America the Beautiful and he said it was the best coffee he'd ever had. I explained how the coffee isn't even roasted until you order and showed him the Bello Montana website. When Rob left that day he asked for some coffee beans to tide him over until his order he was going to place when he got home arrived.

Later that week, I ran into another friend that I hadn't seen in a while, and we were standing there chit-chatting and catching up, when her cell phone rang and she looked at the display screen to see who was calling and rolled her big brown eyes and told me , "It's Rob again." Then she went on to tell me she had been avoiding Rob because he was calling her up every day trying to get her to come over and try some new coffee he found."

It was at that point I had to turn around and laugh.

:: Posted by: ~Just Me Again at 8:01 AM
:: 0 Comments -- Post a comment
:: Email this article to a friend:



Archives
July 2005 August 2005 September 2005 October 2005 November 2005 December 2005 January 2006 February 2006 March 2006 April 2006 May 2006 June 2006 July 2006 August 2006 September 2006 October 2006 November 2006 December 2006 January 2007 February 2007 March 2007