Gourmet Coffee Shop
FRESH ROASTED COFFEE TASTES BETTER!
If the coffee you buy from Bello Montana Roasters is not the absolute best coffee you have ever tasted, we will refund your money. No questions asked.
Tuesday, March 21, 2006 -----



Spring Coffee

Well, you can't tell it is spring here in exotic Toledo, Ohio. I'm seriously thankful for having a hot cup of coffee. It is lightly snowing and the wind is howling. I thought March was supposed to come in like a lion and go out like a lamb? Nothing lamblike about this weather.

I can't remember a March being so cold. Where is this global warming I keep hearing about? (no letters on that one, I'm a tree hugger too).

I've been drinking Bello Montana Espresso Blend to keep the chill off. I'm experimenting with painting WITH coffee. On the odd occasion we don't finish a pot quick, fast and in a hurry (and believe me that ain't too often), I've been using the left over coffee as a kind of watercolor. I've been playing with different blends of beans and strengths of coffee. When a couple dry, I'll scan them and post them so you can see what I am talking about. I know painting with foodstuffs is nothing new (heck the first paints were and still are made from basic plant pigments) but coffee has been a good deal of fun to learn to paint with and to be honest, I just can't stand to waste anything!
And let's face it, even coffee this good is still not the greatest reheated or cold. (Except my partner LOVES cold coffee with all sorts of creams and sugars and whipped creams on top - and since he is skinny as a rail, he can get away with it).

Okay off to paint and will write more later when I'm not freezing here!

JoLynn

get your own zbean account and cool coffee discounts at http://www.zbean.com!


:: Posted by: ~Just Me Again at 6:06 PM
:: 0 Comments -- Post a comment
:: Email this article to a friend:



Sunday, March 05, 2006 -----



Easter Beans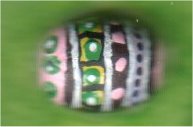 Wanted share the Easter Beans with you. What? You never heard of Easter Beans?

These went over so big last year, I've had a request for tons already this year from coffee loving freaks like me. These are real Bello Montana fresh roasted coffee beans and they are painted using different paints, and then covered with a heavy coating or three of high gloss varnish. I had to experiment for a while to find something that would allow the paint to stick because the natural oils in the coffee beans originally caused the paint to peel up in one solid piece.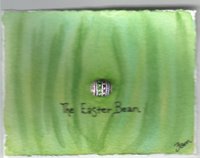 Finally after much cursing and peeling paint, i found a method that worked and these are a big hit every Easter.

I love to paint on strange things, well canvas too, but also I have sold artworks painted on liberated sugar packets from various restraurants, coffee beans, tea packets, found paper sacks, wooden boards I find in my yard (I live on a major thoroughfare) and discarded cardboard boxes.... yes indeed - I will paint on anything.

Oh yeah, i got this free package of coffee filters from my last Drugstore.com order, and they have this "Diamond Deal" thing where if you spend so much you get free items, well I got coffee filters. But from the time that I ordered til my order arrived, my coffee pot went kaput and I had to get a new one, forgetting I had filters on the way and when they arrived they didn't remotely fit the new coffee pot.
So I'm going to complain my free coffee filters don't work? Heck no!
Something new to paint on!!!



this one resides in a private collection as does this one:



and this one




And now i'm off to make myself a "cuppa coffa" and go paint some more!

~J


did you know you can get cool coffee discounts with your own zbean email account?


:: Posted by: ~Just Me Again at 2:10 AM
:: 0 Comments -- Post a comment
:: Email this article to a friend:




Secondary Coffee



Okay this is kind of naughty, maybe a little evil....





I think my partner dated every woman in Toledo, seriously. When I moved here with him, it was non-stop phone calls and "I was just in the neighborhood so I thought I'd stop by" kind of things.





It's not that there's anything going on, it's just that this guy doesn't burn bridges, not EVER. Even when the relationship is over, he's a friend and he seriously can't understand anyone having a problem with that. One girl he dated ended their relationship because he wouldn't stop taking calls from another ex that was having lover troubles with whoever she was currently seeing....



Anyway - I'm not the jealous type, but I do get really annoyed when people stop by without calling. So whenever one them would come by, I would inevitably be painting and have to stop and wipe the paint off my hands so I can answer the door (hence my annoyance) and I always invite them in and make them a cup of coffee... but ya know what?


THEY GET FOLGERS !!!!!!!



Heck no they don't get my Bello Montana! My teenage daughter thinks it's a scream. When I wink and say... "Go get so and so a cup of the OTHER coffee..... "...
I will share a lot of stuff, but not my good coffee... especially that Espresso Roast...oh man that's to die for.



Speaking of which, I need another cuppa.







did you know you can get cool discounts on excellent coffee just by getting a

zbean

account and placing your order using that email address?



:: Posted by: ~Just Me Again at 1:02 AM
:: 0 Comments -- Post a comment
:: Email this article to a friend:




The Only Sure Thing is Coffee and Taxes

If it wasn't for my lovely steaming cup of Bello Montana Coffee, (wow didn't that just sound like Johnny Depp's creepy character Shooter in the movie "Secret Window" ?) anyway...I' would be tearing my hair out if it wasn't for coffee.



I am going through my income taxes.... I don't have that much of an income and it's a real pill to have to sit here and work out all my stupid invoices, expenses, and receipts I am not sure why I kept.



When I start getting frustrated.... take a sip of coffee....ahhhhhh......



I don't know about you, but I'm ready for another form of government support. Taxes seriously bite. And isn't it ironic to think the IRS was created as a temporary measure? Some temporary measure eh?



Oh and here's the kicker to this whole blog posting, I don't even do my own taxes, I'm getting all this together for my accountant, but I hate to give him messy files, so I agonize and sort and pile all these things I've collected over the year and make sure it's all in order for him, and yet he's still going to yell at me for giving him receipts with paint on them (and sometimes coffee....)



Back to the Espresso yummmmm and taxes...ick.





Holding my breath til the 15th and hoping I don't have to pay!



:: Posted by: ~Just Me Again at 12:55 AM
:: 0 Comments -- Post a comment
:: Email this article to a friend:



Archives
July 2005 August 2005 September 2005 October 2005 November 2005 December 2005 January 2006 February 2006 March 2006 April 2006 May 2006 June 2006 July 2006 August 2006 September 2006 October 2006 November 2006 December 2006 January 2007 February 2007 March 2007